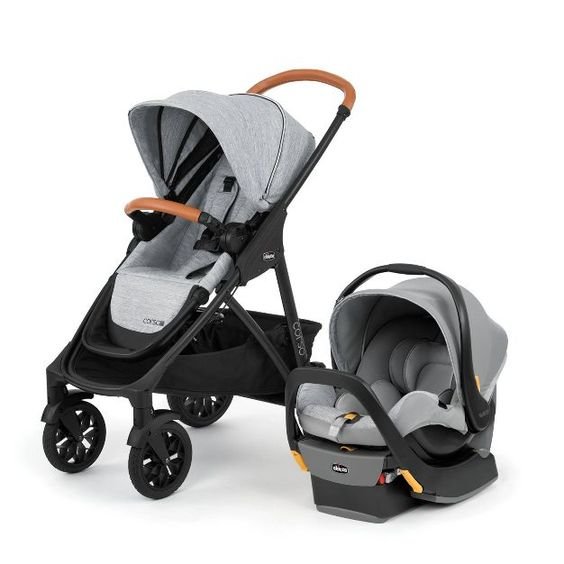 10 Target Strollers for 2022
10 Target Strollers for 2022
Finding the Best Target Baby Jogging Stroller
A baby jogging stroller is really great, especially for parents who were active before they had baby and who want to be able to keep their healthy active lifestyle. The baby jogging stroller allows you to be able to go for your regular jogs with baby in tow, but it also ensures that your child is safe, secure and comfortable.
Your Baby Jogging Target Stroller Options
There are a few baby jogging stroller options in particular that are worth checking out, and one in particular is the 2022 BOB Ironman single baby jogging stroller, which is considered as being the epitome of running specific strollers, and also as a truly perfect addition to the Ironman brand lifestyle linked products in general.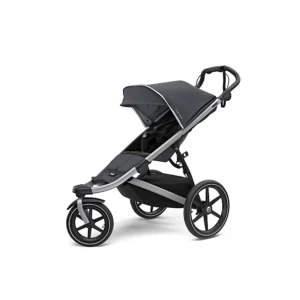 This stroller is really great for the parent who is serious about his or her running, and some of the offered features are: adjustable tracking and padded shoulder straps, slick tires for added running speed and efficiency, bright and beautiful yellow colored exterior, 3 inches of plush suspension for on road comfort and performance, lightweight aluminum metal frame, quick and easy folding mechanism, large sun shade to protect child from the heat and brightness of the sun, parking brake and safety wrist strap, and a padded reclining seat.
Another of the best baby jogging stroller options is the 2022 Dreamer Design Manhattan Deluxe jogging stroller, which comes equipped with literally everything that you need for strolling, shopping, or even just brisk-walking with your little one. It has an incredibly safe and sturdy welded aluminum frame, as well as a 12 inch alloy front, lockable swivel wheel, 16 inch alloy rear wheels, and a breathable padded seat area for your child's comfort.
It also comes with an all-purpose cover that you can use to protect your child from the elements, and there are several storage pockets on the stroller for both parent and child to store their goods. A roomy storage basket beneath the seat is ready to hold the day's essentials as well, and so you definitely have lots of room for everything that you and your child are going to need for the day.
Some of the other features that this particular stroller offers include: rear footbrake, convenient one-step folding, breathable and padded seat area, 5-point safety harness, 2 water bottle holders, safety wrist strap and key leash, large view port canopy windows, canopy side ventilation system, and push-button wheel release.
It is quite easy to see the number of different jogging stroller options that you have to choose from, each which offers its own features and qualities, but each which is still fantastic and worthy in its own regards.
Finding the Best Target Combi Double Stroller
If you have twins, or even if you just have more than one child, than the combi double stroller option is definitely one that you are going to want to take into consideration, if you haven't already. A combi double stroller is basically just a stroller that has two seats in it, sort of like two strollers put together only smaller and more easy to maneuver.
There are plenty of options when it comes to choosing a combi double stroller for yourself, and with all the different brands, colors, styles, sizes and designs out there, you are sure to have a lot of fun while you are out shopping for your little ones.
Your Best Target Combi Double Stroller Options
One of the best combi double stroller options you have is the Combi Twin Savvy EX stroller. It is one which is incredibly lightweight and portable, and which is also compatible with the Combi Connection infant car seat. This stroller offers a convenient carrying strap that makes it easy to transport,
and as well, to make it easier on parents there is a stroller pack that is included which has two separate bottle pockets and a zippered storage pouch.
The seat cushions are removable, so there is not much hassle needed when you go to clean them, and this is important because you are definitely not going to have much spare time on your hands. The stroller folds compactly with the tri fold and are self standing when folded, and as well this side by side stroller features extra large canopies with extendable visors in order to better protect your babies from the elements of the outdoors.
Another great option is the Counterpart Tandem stroller, which features front center swivel wheels for easy maneuvering, and a convenient flat fold allowing it to be self standing when it is folded up. The large adjustable canopy that is included with it features extended visors on the back of the front canopy in order to provide additional shade, and the Combi Counterpart, which is compatible with this stroller, is opened effortlessly with just a single hand.
Furthermore, the rear seating position is able to fully recline in order to accommodate even the youngest infant, and the stroller even has removable snack trays for the children and for the parents, it offers a cup holder on the front handle for their convenience.
It is quite easy to see that there are some wonderful options out there, and it just takes a bit of your time and effort in order for you to be able to find that particular stroller that is going to suit you and your needs the best.
The Fisher Price All Terrain Stroller at Target
Most of us have heard of the Fisher Price name before, and as parents you surely trust in them as being a longstanding, affordable and safe company to buy from for your children. However, surprisingly enough not many people know that they also offer strollers. This is true, and in fact they have quite a selection of strollers for you to choose from.
There is one stroller in particular which they offer however, the Fisher Price All Terrain Stroller, which is definitely one that you will want to check out, especially if you and baby tend to take long walks over rough terrain, because you will need a stroller that is sturdy, heavyweight and yet maneuverable all at the same time.
The Features of the Fisher Price All Terrain Stroller
The Fisher Price All Terrain stroller is truly an incredible stroller, and one of its best features is the fact that it fits two children but they are facing each other, so that they can communicate while you are strolling with them. This is really great, because this gives the children something to do and thus keep them entertained. This means that as a result you will be able to take much longer trips, and so it is definitely a great feature.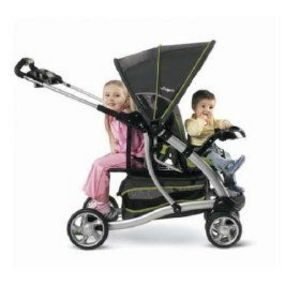 Another feature is the canopy that is removable, so you can take it off when you want the children to have a view and be out in the open, but then you can attach it back on when it is too sunny, raining, or you otherwise have to protect the children from the elements of the outdoors.
Some of the other features that are offered with the Fisher Price All Terrain stroller include: 3-point safety harnesses, folds flat to fit easily in your car truck or other storage area, extra-long handle for taller parents, two rear storage pockets for small toys or diapers, large rubber-like plastic wheels for a smoother ride, and not only do you get all of this, but at an incredibly affordable price at that.
It is definitely one of the best strollers of its kind, and so whether you are expecting twins, already have twins, or simply have two younger children, then you are definitely going to need a double stroller and this option in particular is one that you should take into consideration. After all it offers all of the qualities that you should be looking for in any stroller: high quality, durability, style, and affordability.
Finding the Best Lightweight Stroller for you at Target
Having a lightweight stroller is extremely important, because you are going to need to be able to push and pull the stroller around, and consider how difficult it would be for you to get around tight corners if you did not have a lightweight stroller. Especially if you are a single mom, you are going to want to make sure that you get an extremely convenient and easily maneuverable stroller.
Choosing a Lightweight Stroller from Target

There are definitely a number of options when it comes to strollers that are lightweight, one in particular being the Chicco Caddy Umbrella stroller,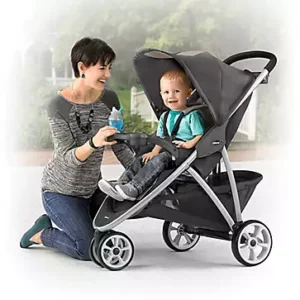 which is an incredibly lightweight stroller built with an aluminum frame, which is extremely important because even then it is very lightweight it is also very sturdy so your child's safety will not be at risk.
As well, it offers a 5-point safety harness system with shoulder pads, an adjustable canopy with zippered storage pockets, a carry bag with a carrying strap for easy mobility, and an easy and convenient compact fold, so if you are by yourself you are still able to quickly and easily fold up the stroller when you need to.
Another great lightweight stroller option is the Britax Esprit, which is an ultra lightweight aluminum framed stroller that features a removable washable seat pad for easy maintenance, a removable adjustable hood and large basket for your and baby's storage needs, ergonomic foam grips and parent bottle holder, easy adjust 5-point harness and fully adjustable reclining seat, all wheel suspension, and adjustable and padded leg rest so that the child can be as safe and comfortable as possible.
Yet another fantastic and worthwhile stroller option is the Joovy Groove lightweight stroller with swivel wheels, which is one that truly sets the standard for all other strollers like it. It includes all of the fantastic features that you would expect from a high end stroller, and this includes: a lightweight aluminum frame, reclining seat for the child, oversized canopy with an extending sun visor, drink holders and zippered storage space.
When it comes to lightweight strollers, one thing that you definitely have plenty of is choice, and so you want to take your time and browse through the different options so that you can decide on the one that is best for you and your particular and personal needs. Remember that all of the time and effort that you put in beforehand will be more than worth it when you find that perfect stroller.
Finding a Side by Side Double Stroller at Target
A side by side double stroller can be very convenient if you have two younger children that you need to get around, and there are many varieties on this type of stroller that you can choose from, which is great because every parent has different preferences and a different idea of what they are looking for, and so you are really able to find the perfect side by side double stroller for you and your children.
The Combi Twin Sport 2 Side by Side Double Stroller from Target

This particular double stroller offers a number of different features that are advantageous for you, including: lightweight and portable design, compatible with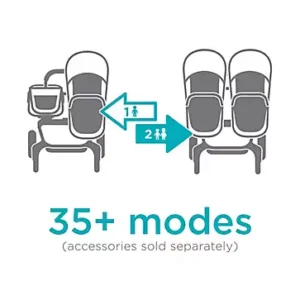 the Combi Center infant seat, carrying strap which makes it easy to transport, a back pocket on both the canopies for added storage room, and removable and easily washable cushions.
There are also two large baskets for storage, front swivel wheels for easier maneuvering, 5-point harness with comfort pads,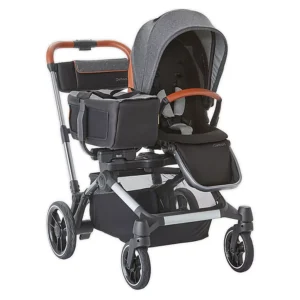 removable wheels, independent wheel suspension system for a smooth and restful ride, infant boot in both seats, and each seat holds up to 45 pounds, so you can use the side by side double stroller even when your children get older.
The Duo-SS Double Side by Side Stroller by Foundations
This side by side double stroller from Target is another of your best options, and it features a side by side design that allows the children to interact while riding. It offers an incredibly easy to clean heavy duty fabric as well as extra large storage baskets, and it folds up easily and compactly for easy storage and transport.
The Mountain Buggy Urban Double Stroller
Yet another fantastic option, this stroller is in fact known as being one of the narrowest side by side double baby strollers available on the market today, and with dual up front swivel wheels, it offers great stability and allows you to make those tight corners that are hard to make with other, wider double strollers.
Each seat of this stroller reclines individually, down to a mere 15 degrees off horizontal, so that both of your passengers are able to relax in their own fashion and be super comfortable, and yet completely safe and secure at the same time.
From this, it is incredibly easy to see just how great your options are in terms of double strollers, and so you can really rest assured at least in knowing this, so that you can be comfortable and not worried when you go out to buy your own double stroller.