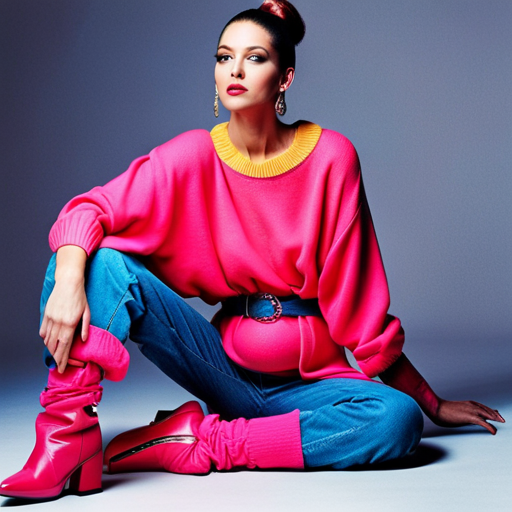 Step into the time machine and take a nostalgic trip back to the 80s, where maternity fashion was a vibrant journey filled with bold prints, colors, and unexpected trends.
From shoulder pads that elevated your style to stretchy leggings that embraced your growing bump, discover how these fashion-forward mamas rocked their pregnancy looks.
Get ready to explore the evolution of maternity dresses, rock the power suit while expecting, and find out how to accessorize your 80s maternity ensemble for a truly innovative and stylish look.
Key Takeaways
Maternity fashion in the 80s embraced bold and vibrant styles.
Celebrity maternity fashion influenced women worldwide.
Maternity clothing became fashionable and trendy with the introduction of stretchy fabrics.
Shoulder pads and oversized sweaters were popular trends in maternity wear.
The Evolution of Maternity Fashion in the 80s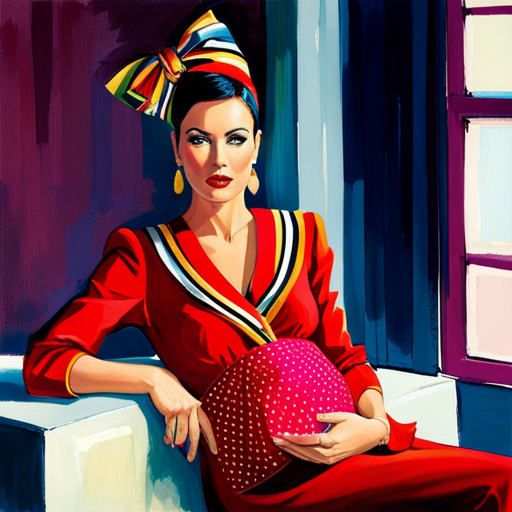 You won't believe how much maternity fashion has changed in the 80s! The impact of celebrity maternity fashion and the influence of popular culture played a significant role in shaping the trends of this era. Maternity fashion in the 80s was all about embracing bold and vibrant styles, breaking away from the traditional and conservative designs of the past.
Celebrity maternity fashion became a source of inspiration for many expectant mothers. Celebrities like Princess Diana and Demi Moore showcased their pregnancy style with confidence and elegance, influencing women worldwide to embrace their changing bodies and experiment with fashion. Maternity fashion became a way for women to express their individuality and maintain their sense of style during pregnancy.
Popular culture also played a crucial role in shaping maternity fashion in the 80s. The rise of 80s music and iconic movies like 'Dirty Dancing' and 'Flashdance' influenced maternity fashion trends, with women seeking to emulate the bold and edgy styles portrayed in these media. Maternity clothing became more fashionable and trendy, with the introduction of stretchy fabrics, oversized sweaters, and high-waisted pants.
Embracing Bold Prints and Colors
Get ready to update your maternity wardrobe with bold prints and colors that will make a statement during your pregnancy. Gone are the days of drab and dull maternity clothes. Embrace the vibrant world of fashion with these exciting options:
Floral frenzy: Add a touch of femininity to your pregnancy style with bold floral prints. From delicate blossoms to oversized blooms, these prints will make you feel fresh and fashionable.

Geometric wonders: Step out of the ordinary with eye-catching geometric patterns. Triangles, squares, and circles come together to create stunning designs that are sure to turn heads.

Animal instincts: Unleash your wild side with animal print maternity clothes. From leopard spots to zebra stripes, these prints add a touch of fierceness to your pregnancy style.

Tropical paradise: Bring the vacation vibes to your maternity wardrobe with tropical prints. Think palm leaves, exotic flowers, and vibrant colors that transport you to a sunny beach.
Updating your maternity wardrobe with bold prints and colorful patterns is a surefire way to make a fashion statement during your pregnancy. So go ahead, experiment with these exciting options and embrace the joy of dressing up your baby bump in style.
The Rise of Shoulder Pads in Maternity Wear
As you update your maternity wardrobe with bold prints and colorful patterns, you may be surprised to discover the rising trend of shoulder pads in maternity wear. Shoulder pads, once a staple of 80s fashion, have made a comeback and are now being incorporated into contemporary maternity clothing. This revival of 80s trends in maternity wear reflects the influence of shoulder pads on women's fashion and adds a touch of retro flair to modern maternity outfits.
To better understand the impact of shoulder pads on maternity wear, let's take a closer look at their influence:
Column 1
Column 2
Column 3
Retro Chic
Enhanced Silhouette
Versatile Styling
1. Shoulder pads give maternity clothes a retro chic look that is both trendy and fashionable. They add a vintage touch to any outfit, allowing pregnant women to embrace their unique sense of style.
Additionally, shoulder pads can enhance the silhouette of maternity wear. By adding structure to the shoulders, they create a more balanced and proportioned look, especially for women with broader hips.

The versatility of shoulder pads in maternity wear cannot be overstated. They can be incorporated into various styles, from dresses to blouses, allowing pregnant women to experiment with different looks and find what works best for them.
The revival of 80s trends in contemporary maternity wear brings a fresh and innovative approach to pregnancy fashion. By embracing shoulder pads, expectant mothers can add a touch of nostalgia to their maternity wardrobe while staying on-trend. So, why not give this trend a try and see how shoulder pads can elevate your maternity style?
The Versatility of Stretchy Leggings
Sometimes, you'll find yourself reaching for your stretchy leggings because they're incredibly versatile for any occasion. Not only are they comfortable activewear for expecting moms, but they also serve as the perfect maternity leggings for exercise and lounging.
Here are four reasons why stretchy leggings should be a staple in every pregnant woman's wardrobe:
Enhanced Comfort: One of the biggest challenges during pregnancy is finding clothes that are comfortable yet stylish. Stretchy leggings provide the perfect solution as they adapt to your growing belly, providing support and flexibility without compromising on comfort.

Versatile Styling Options: Whether you're heading to a yoga class or running errands, stretchy leggings can be effortlessly styled to suit any occasion. Pair them with a loose-fitting tunic for a casual look or dress them up with a flowy top and accessories for a more put-together ensemble.

Support for Exercise: Staying active during pregnancy is crucial, and stretchy leggings offer the necessary support for exercise. With their stretchy fabric and wide waistband, they provide gentle compression and support to your growing bump, allowing you to move freely and comfortably.

Ideal for Lounging: On those days when you just want to relax and unwind, stretchy leggings are the perfect choice. They provide a snug fit that doesn't constrict your movement, making them ideal for lounging around the house or enjoying a cozy night in.
Stylish and Functional Oversized Sweaters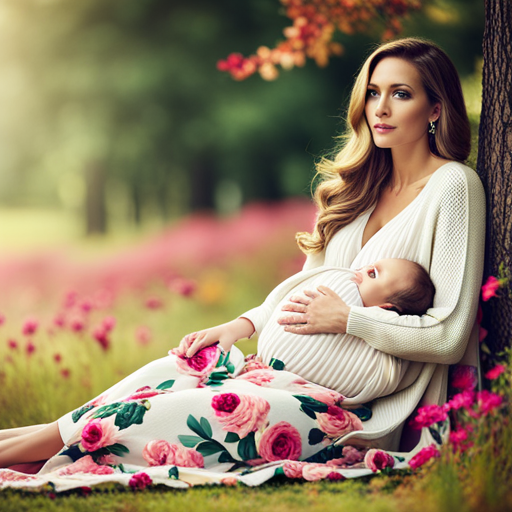 Have you considered adding some stylish and functional oversized sweaters to your wardrobe this winter season? Oversized sweaters aren't only cozy and comfortable, but they also provide a fashionable and versatile look. When it comes to layering options, oversized sweaters offer endless possibilities. You can pair them with skinny jeans or leggings for a casual and effortless vibe, or dress them up with a skirt and boots for a more polished look. The loose fit of these sweaters allows you to add multiple layers underneath, such as turtlenecks or button-down shirts, creating a stylish and cozy ensemble.
Finding the perfect oversized sweater for your body shape is essential to ensure a flattering and fashionable fit. If you have a pear-shaped body, opt for a sweater with a longer length that covers your hips to create a balanced silhouette. For those with an hourglass figure, choose a sweater that cinches at the waist to accentuate your curves. If you have a rectangular body shape, go for a chunky knit sweater with ribbed details to add dimension and create the illusion of curves. Lastly, if you have an apple-shaped body, opt for a sweater with a V-neckline to draw attention away from your midsection.
Maternity Dresses: From Babydoll to Bodycon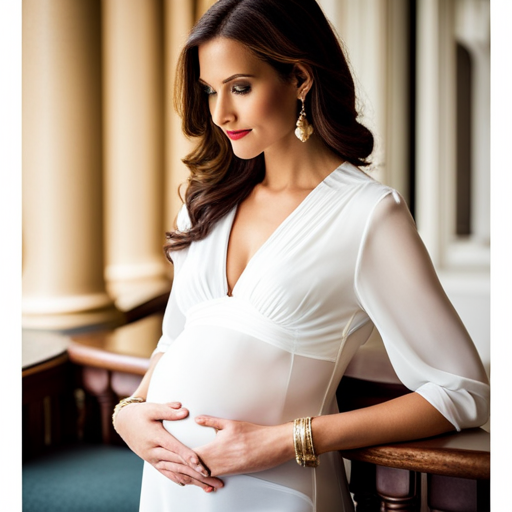 Are you ready to explore the wide range of maternity dresses, from babydoll to bodycon, that will beautifully showcase your growing bump? Maternity fashion has come a long way, and today's expectant mothers have more options than ever before. Whether you prefer a flowy and feminine babydoll dress or a form-fitting bodycon style, there's a dress out there that will make you feel both comfortable and stylish.
Here are four key trends in baby bump fashion that you should consider:
Wrap dresses: These dresses feature a flattering wrap design that can be adjusted to accommodate your changing shape. They're versatile and can be dressed up or down for any occasion.

Maxi dresses: Perfect for those hot summer days, maxi dresses provide maximum comfort and style. They're available in various prints and colors, allowing you to express your personal style.

Off-the-shoulder dresses: Show off your shoulders and embrace your femininity with an off-the-shoulder maternity dress. This trend adds a touch of elegance to any outfit.

Shirt dresses: For a more casual and laid-back look, opt for a shirt dress. This style is comfortable, easy to wear, and can be paired with accessories to elevate your look.
As you navigate through your pregnancy, remember that maternity fashion is all about celebrating your beautiful baby bump. Embrace the trends that make you feel confident and comfortable, and enjoy the journey of dressing your growing bump in style.
Rocking the Power Suit Look While Pregnant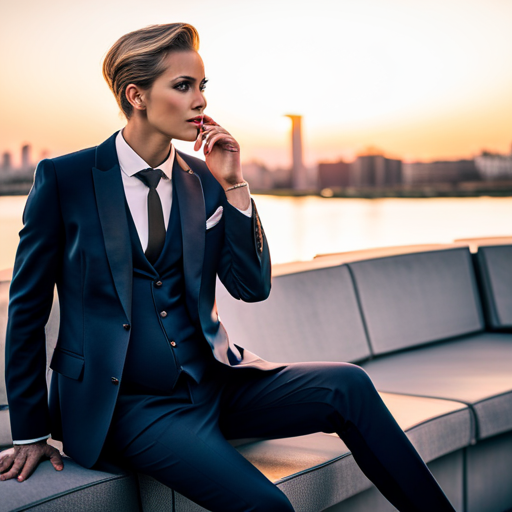 You can still maintain a professional and stylish look while pregnant by rocking the power suit, pairing a tailored blazer with coordinating pants or a skirt. But if you're looking for power suit alternatives that are specifically designed for maternity wear, there are plenty of options available that will keep you looking chic and confident in the workplace.
One option is a maternity blazer that's designed to accommodate your growing belly. Look for blazers made from stretchy fabrics that will provide comfort and flexibility throughout your pregnancy. Pair it with maternity pants or a skirt that have an elastic waistband to ensure a comfortable fit.
Another alternative is a maternity jumpsuit. Jumpsuits are versatile and can be dressed up or down depending on the occasion. Opt for a jumpsuit made from a breathable fabric that will keep you cool and comfortable all day long. Pair it with a statement belt to accentuate your waist and add a touch of sophistication to your look.
Lastly, consider a maternity dress with a blazer. This combination offers a stylish and professional look while providing the comfort and flexibility you need during pregnancy. Look for dresses made from stretchy materials that will accommodate your growing belly, and pair it with a tailored blazer to complete the power suit look.
Maternity Denim: From High-Waisted to Acid Wash
Check out the latest styles in maternity denim, from high-waisted to acid wash, to find the perfect pair that flatters your baby bump. Maternity denim has come a long way in recent years, with designers focusing on creating stylish and comfortable options for expectant mothers. Whether you prefer a classic high-waisted style or want to make a bold statement with acid wash jeans, there's something for everyone.
Here are four trends in maternity denim that are currently making waves:
High-waisted jeans: These are a popular choice among pregnant women because they provide support for the growing belly while also giving a flattering shape to the hips and thighs.

Distressed denim: For those who like a more edgy look, distressed denim is the way to go. Ripped knees, frayed hems, and worn-in patches add a cool and casual vibe to any outfit.

Acid wash jeans: Acid wash jeans are making a comeback, and they aren't just for the non-pregnant crowd. The unique, washed-out pattern adds a retro touch to any maternity outfit.

Stretch denim: Comfort is key during pregnancy, and stretch denim offers just that. With its flexible fabric, stretch denim allows for easy movement while still maintaining its shape.
With these options, you can stay stylish and on-trend throughout your pregnancy. So go ahead and rock that maternity denim with confidence!
Accessorizing Your 80s Maternity Look
Can you rock an 80s maternity look by accessorizing with neon jewelry and a scrunchie? Absolutely! The 80s were known for their bold and vibrant fashion choices, and incorporating stylish accessories into your maternity wardrobe is a great way to embrace that retro vibe while maintaining comfort.
When it comes to accessorizing your 80s maternity look, neon jewelry and a scrunchie are must-haves. Neon colors were a staple of 80s fashion, adding a pop of brightness to any outfit. Pairing a neon statement necklace or earrings with a simple maternity dress can instantly elevate your look. And don't forget the scrunchie! This iconic hair accessory not only adds a touch of 80s nostalgia, but it's also practical for keeping your hair off your face during those hot summer months.
To help you visualize how to rock an 80s maternity look, here's a table showcasing some stylish accessory options:
| Outfit | Neon Jewelry | Scrunchie |
| --- | --- | --- |
| Dress | Statement necklace | Bright scrunchie |
| Jeans and top | Neon hoop earrings | Patterned scrunchie |
| Skirt and blouse | Neon bangle bracelets | Neon scrunchie |
Frequently Asked Questions
What Are Some Popular Maternity Clothing Trends in the 80s?
In the 80s, popular maternity clothing trends showcased innovative styles and designs. Women embraced bold prints, oversized tops, and stretchy fabrics. These fashion choices allowed for comfort and expression during pregnancy.
How Did Shoulder Pads Become a Trend in Maternity Wear?
Shoulder pads became a trend in maternity wear as a way to add structure and create a more flattering silhouette. They provided support and balance to the expanding belly, while also adding a touch of fashion-forward style to maternity fashion.
What Are Some Tips for Styling Oversized Sweaters During Pregnancy?
To style oversized sweaters during pregnancy, try pairing them with leggings or skinny jeans for a balanced look. Add a belt above your bump to accentuate your shape. Look to fashion inspiration for ideas and don't be afraid to experiment!
How Did the Babydoll and Bodycon Dress Styles Evolve in Maternity Fashion?
In the 90s, maternity fashion underwent an evolution, with the babydoll and bodycon dress styles emerging as popular trends. These styles allowed pregnant women to embrace their changing bodies while still maintaining a fashionable and trendy look.
What Are Some Ways to Accessorize an 80s Maternity Look?
To accessorize an 80s maternity look, try adding bold statement jewelry like oversized earrings or chunky bracelets. Don't forget about colorful scarves, wide belt cinchers, and funky sunglasses to complete the retro vibe.
Conclusion
In conclusion, the 80s saw a dramatic evolution in maternity fashion. Bold prints, vibrant colors, and shoulder pads became popular trends. Stretchy leggings provided comfort and versatility, while oversized sweaters offered both style and functionality. Maternity dresses ranged from babydoll to bodycon, allowing women to embrace their changing bodies.
Even power suits were adapted for pregnant women, and maternity denim came in various styles, from high-waisted to acid wash. Accessorizing completed the 80s maternity look, making it a fashionable and memorable era for expectant mothers.