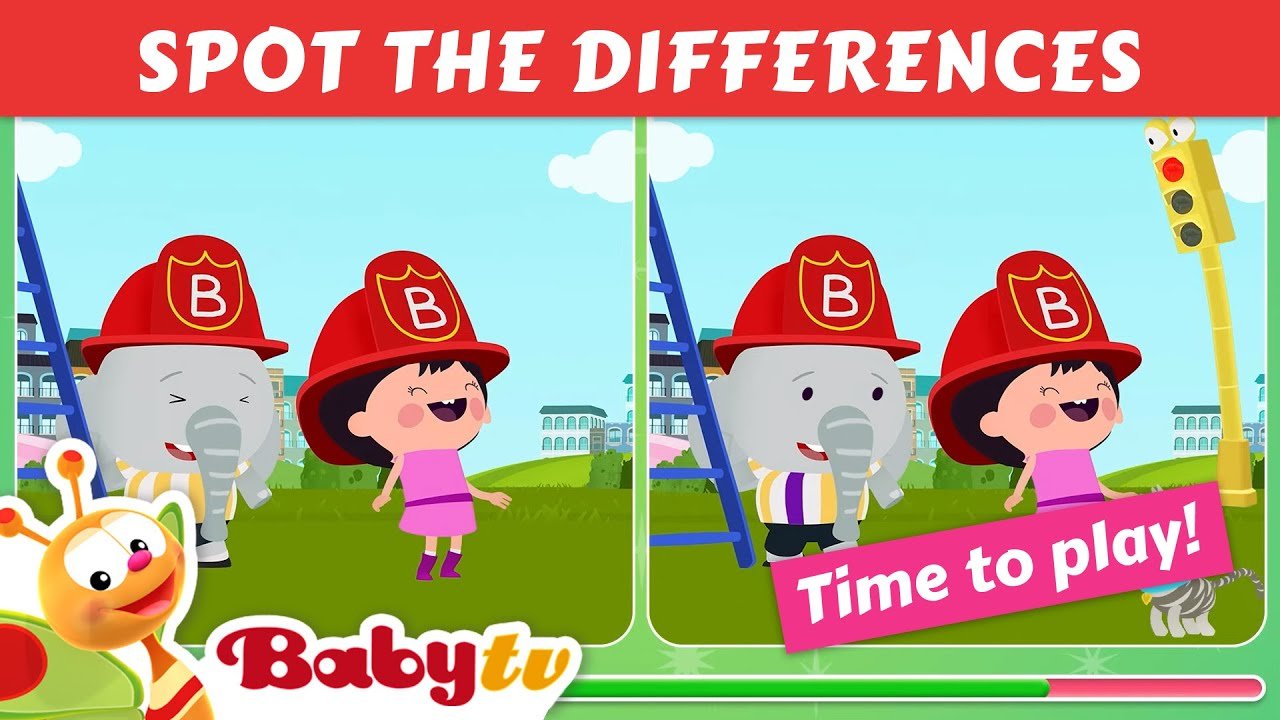 Spot the Differences: Lola, Mike & Friends 🤩| Family Fun 👨‍👩‍👦 | Fun Games For Toddlers @BabyTV
Can you find the four differenced in the picture? Join us and try to solve the puzzle.
SUBSCRIBE for more videos every week!
More from BabyTV:
https://youtu.be/Mgej0XBUff0
https://www.youtube.com/watch?v=3WVCh4RyLFk&list=PLakLrQJOovvkpIVJmfFUEGzX3huDL8oY4&index=5
https://www.youtube.com/watch?v=WSrV9rzyfSw&list=PLakLrQJOovvnaIFYcmtDGf5zTngEmy2Ss&index=1
Watch full episodes and songs without adverts on our App!
Download BabyTV App:
iOS:
Android:
To watch BabyTV in your country visit
Here whenever you need us.
The world's leading TV channel made for toddlers (4 & under) and their parents.
Plus, our content is created with experts, so you can trust little ones are in safe hands.
Visit Us:
WEBSITE:
FACEBOOK:
INSTAGRAM:
TWITTER:
PINTEREST:
0:33 Little Lola
2:24: Mike's Bike
4:33 Dino & the Egg Hunt
6:44 Lale Ki Lolu
#BabyTV #ForKids #KidsVideo #ToddlerTV #KidsCartoon #fullepisode #cartoon #nurseryrhymes #songsforkids #ChildrenSongs #PreschoolSongs #SingAlong #MusicForChildren #KidsMusic #spotthedifference #spotthedifferences #findthedifference #funlearningforkids #visualperception
---
[Music] Hahaha Baby TV hey kids it's game time [Music] [Applause] [Music] Can you spot the four differences Let's go [Music] Foreign [Music] Great job [Applause] [Music] Laughs [Music] Hey I can't stop Mikey Mikey Petite are you okay I'm fine whew Mikey my bike won't stop The bike won't stop I think I know what to do Can you spot the four differences [Music] [Music] Foreign [Music] Yeah you did it [Music] Here you go Mikey my bicycle looks the Same are you sure you fixed it I Connected what was in the box that said Bicycle brakes I believe it will do the Trick come on [Music]
It's working I'm writing and stopping Arriving and stopping And remember [Music] Can you spot the four differences Go [Music] [Applause] Foreign [Music] Thank you [Music] Time's up [Music] Good evening Great job [Music] [Applause] [Music] [Applause] [Music] All right [Music] [Music] Wow Wow Can you spot the four differences No [Music] Foreign [Music] [Music] [Applause] Thank you
[Music] [Applause] Hurry [Music]