Advice-Packed Resources for Navigating All Stages of Parenthood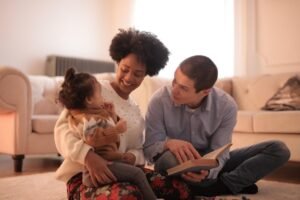 Image via Pexels
Advice-Packed Resources for Navigating All Stages of Parenthood
Whether you're a soon-to-be parent or are already in the middle of parenthood, chances are you have fears and/or challenges you are facing that you feel unprepared for. This is normal. At some point, every parent feels unprepared—even inadequate. However, the fact that you're reading this suggests that you care enough to learn what you can so that you can navigate the challenges of parenthood and be the very best parent you can be. And that's a good sign that you're up for the task.
If you're looking to get better prepared for the challenges and joys of raising a child, My Baby's Family offers some advice-packed resources to consider.
Disciplining Your Child Effectively
Discipline is one of the biggest challenges to parents. It requires you to be consistent while also being flexible through the different stages of your child's development. And it also requires you to always discipline from a place of love. The following resources can help you establish solid disciplinary protocols for your child, so when those moments arise, you're prepared to provide effective and appropriate responses to your youngster.
The 20 Commandments of Toddler Discipline
Discipline Tips for School-age Children
Dealing With Tweenage Attitude
Helping Your Child Learn
Children are hard-wired for learning, but figuring out how to unlock their potential can leave you feeling overwhelmed. Thankfully, there are plenty of practical ways to support your child's efforts to learn. When it comes to choosing the right approach and turning the right keys, these resources can help.
Experts Explain How to Support Kids Through the Stages of Child Development
10 Ways to Help Your Child Succeed in Elementary School
Take Science to New Levels with Activities Like Storm Spotting or Bird Watching
Keeping Your Child Healthy
A child's well-being and capabilities begin with their physical and mental condition; nothing is more important than your child's health. For wellness throughout life, it's best to start instilling good habits as early as possible. To that end, explore the following.
Nutrition Tips for Kids
5 Ways to Help Your Child Be More Physically Active
Keeping Yourself Healthy and Engaged
You've probably heard before that your kids will look to you for how to act. Not only that, the better you take care of your own health and well-being, the better you will be able to parent. Being a proper role model is a tall order, but it's entirely doable with the right information.
5 Ways to Eat Healthy When You're Super Busy
How Parents Can Find Exercise Time
How to Find Work-Life Balance
Parenting is hard enough for even the most seasoned veterans. So know that you're not alone if you feel a little unprepared for your current circumstances or for what lies ahead. Aim to discipline your child effectively, to help them in their learning and development, and to keep both your child and yourself healthy. If you gain these skills, you'll be well on your way to being the top-notch parent your child deserves.