Tips for Dad to Bond with Baby
As a new dad, it's natural to want to form a strong bond with your baby. After all, you've waited nine long months to finally hold your little one in your arms. But with the constant feeding, diaper changing, and sleepless nights, it can be challenging to find ways to connect with your baby on a deeper level. That's why we've put together some simple tips to help you strengthen your bond with your newborn.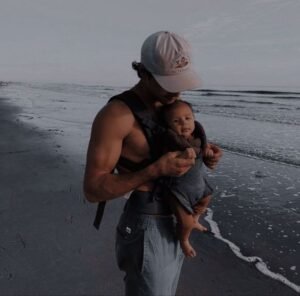 One of the most effective ways to bond with your baby is through skin-to-skin contact. Not only does it provide warmth and comfort to your little one, but it also releases feel-good hormones in your body. So, take your shirt off and hold your baby close to your chest. You'll be amazed at how calming and soothing it can be for both of you.
Talk, sing, and read to your baby
Babies love to hear the sound of their parents' voices, even if they don't understand the words yet. So, talk to your baby about anything and everything – your day, your hopes and dreams for them, or even the latest sports scores. Sing lullabies or your favorite songs and read them stories. The more you communicate with your baby, the more they'll recognize your voice and associate it with comfort and safety.
Getting outside with your baby is a great way to bond and get some fresh air. Strap them into a carrier or stroller and take a leisurely stroll around the neighborhood. Talk to them about what you see, point out interesting sights, and let them experience new smells and sounds. It's a great way to create lasting memories while also promoting their cognitive development.
Help with feeding and diaper changing
While it may not be the most glamorous task, helping with feeding and diaper changing can be a bonding experience. It's an opportunity to spend one-on-one time with your baby, to learn their cues and needs, and to provide them with the care and attention they require. And don't forget to talk to them while you're doing it!
Many community centers and hospitals offer classes for new dads and babies, such as baby yoga or music classes. Not only do these classes provide a chance to bond, but they can also be a great way to meet other dads who are going through the same experience. And who knows, you may even learn a new skill or two.
 bonding with your baby doesn't have to be complicated or time-consuming. By incorporating these simple tips into your daily routine, you'll be well on your way to creating a strong and lasting connection with your little one. Remember, every moment counts, and the more love and attention you give your baby, the more they'll thrive and grow.
Marcus html copy for submitting email and link to form
FREE Downloads
Over 50 How To Parenting Books
From Before the Wedding to Raising the Kids
And Everything in Between